From the very first day on the job, our consultants at Ter Molen Watkins & Brandt were integral to our efforts. They began by preparing our development team for a challenging campaign and together we crafted and implemented an initial fundraising strategy that was very successful, despite the economy. I counted on their thoughtful guidance, wise counsel and accomplished experience at each step of campaign planning and implementation.
David Parkyn
President
North Park University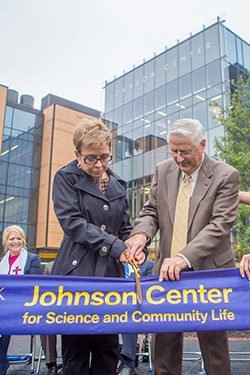 Nancy and Dr. Tim Johnson cut the ribbon at the Johnson Center dedication ceremony on September 12, 2014.
Goal: $57 Million
Raised: $63 Million
Background
Over the past twelve decades North Park University has become a medium-size comprehensive university with more than 3,250 students from across the country and around the world, enrolled in undergraduate, graduate, and seminary theological studies. As North Park began looking toward the future, they sought to accommodate a growing science program and enrich student experiences.
Goals for Campaign North Park
The "Campaign North Park" goals include:
The Johnson Center = $42 Million
Build a modern science center to accomodate an increase in enrollment in science courses and include additional space for student services and campus life.
Annual Fund = $8 Million
Gifts to the Annual Fund provide annual spendable resources to underwrite the basic costs of providing an education.
Scholarships = $6 Million
Increase the University's scholarship funds for undergraduates, graduates, and seminarians.
Chicago Initiatives and Enrichment = $1 Million
Increase opportunities for internships, an urban semester program, and activities to engage partnerships in the city in support of student learning.
The total goal for the campaign was $57 million.
Our Work
Ter Molen Watkins & Brandt was engaged in April 2008 to aid with campaign planning and oversight, conducting a feasibility study for a comprehensive campaign to include endowment, academic programs, and annual operating support as well as the capital centerpiece.
Our team worked closely with the development staff at North Park. Clyde Watkins, Senior Partner, and Nora Kyger, Executive Vice President and Partner, conducted a feasibility study and provided counseling throughout the campaign. Our team helped to train and hire staff and worked with North Park to develop strategies and messaging. Along with Vice President Don Souhrada, the TW&B team assessed North Park's annual fund and helped implement new development processes with the goal of increasing the university's advancement capacity.
The Results
Ultimately, the North Park University's outstanding and tireless cultivation and solicitation efforts carried the day. Eleven donors committed gifts of over $1 million, compared to the seven donors giving at that level in the previous campaign. North Park also saw an increase in donors at the $100,000 to $500,000 range. Due to these major giving increases, the university was able to exceed its goal.
At the completion of the five-year campaign, the university had secured a total of $63,344,079 gift commitments – over $6 million past the $57 million goal.

Print Friendly